Music Magic Provides Opportunity to Learn Life Skills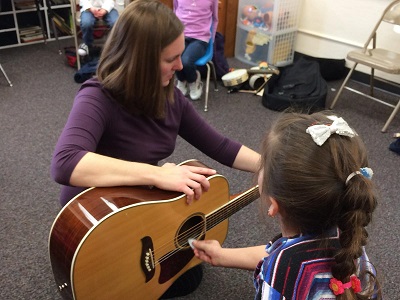 Music Magic Provides Opportunity to Learn Life Skills
Anne Woita on 03/06/2015
Through an LAC Project Grant awarded by the Lincoln Arts Council and the sponsorship of Hildegard Center for the Arts, Music Therapist Rachel Rotert conducted a series of workshops to bring "Music Magic" to Clinton and Hartley Community Learning Center students in grades K-2.  Using visual arts, music, rhythm and movement, Rachel taught the children important life skills such as leadership, teamwork, courage, self-esteem and confidence.  Little hands created art and rocked percussion instruments; little feet stomped out the rhythms and broke out dance moves; and little voices erupted into "roars" as the children sang out with confidence at culminating performances featured at the schools' Family Nights the first week in March.
During the workshops, the children were asked to describe important rules for life.  Their responses included:  respect, responsibility, teamwork and being a nice friend which were reinforced throughout the sessions.  Rachel encouraged the children to recognize the importance of balancing their own unique strengths with a sense of unity and teamwork. The mantra that was adopted by the children became:   "We have many voices, but we make one song.  We are all so different, but we get along."
What did the children learn by participating in the "Music Magic" workshops?  In their own words:"It's important to work as a team because many people can do more than one person.""It's better to share our super powers with others than keep them a secret." "I'm a leader for people in my class when they're goofing off and I decide to follow directions instead." Rachel shared that one child in her group had trouble identifying a positive strength he possessed.  He told the group that he was only good at fighting.  His group members and Rachel helped him realize and "own" the fact that he's also very talented at drawing.  This little boy was surrounded by support and encouragement to find an identity and worth that others recognized in him.  
"Music Magic" is another example of the power of the Arts impacting lives.  We DO have many voices, but together we can make one song.