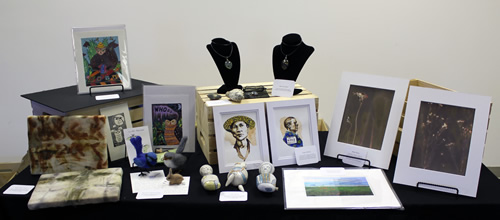 Community Supported Art 2014!
About CSArt
What is Community Supported Art? Over the last 20 years, Community Supported Agriculture (CSA) has become a popular way for consumers to buy seasonal food directly from local farms. With the same "buy-local" spirit in mind, we are pleased to bring Community Supported Art (CSArt) to Lincoln, to support local art, artists and collectors.

The goals of the CSArt program are to support artists and to encourage a community of local arts supporters. CSArt supports artists: in the creation of new work, to establish relationships with local collectors and patrons, and to participate in the launch of an exciting new model of art support and distribution. CSArt shareholder benefits include multiple works of art from local emerging and mid-career artists at a fantastic value! Additionally, CSArt shareholders have the opportunity to develop relationships with the local artists and art community, discover new artists, explore a variety of disciplines and support artists' careers and a vibrant community.

CSArt is a three-year project with our funding partner, Union Bank & Trust Co.  LAC will also be developing strong partnerships with the local food industry, and other local vendors who we hope to have support the bumper crop portion of the program.