Lincoln Arts Festival Application May 1st Deadline!
Lincoln Arts Council on 04/29/2015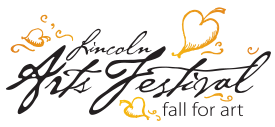 Last year was one of the best Lincoln Arts Festivals ever, with perfect weather, great attendance, new and delicious food vendors, and great festival energy. This year, the dates are September 26th and 27th, at SouthPointe Pavilions' west parking lot. 2015's festival will feature great artists, a world of entertainment, a presold artist patron program, and hospitality like no other!
Local artists who enjoy a festival setting and would like to be a part of the festival should remember that our juried show has an application deadline of May 1st. Applications may be completed online at Zapplication.org. If you've never gone to Zapplication.org before, setting up an artist profile is easy and costs nothing. You will then have access to loads of information on our festival and many others. Remember, our application deadline is May 1st.  (If you miss the deadline please contact Melissa@artscene.org) Join us for a good time.